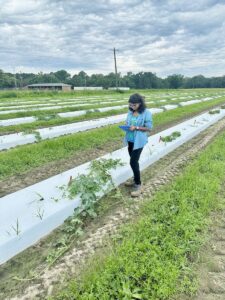 Anju Biswas is a researcher in the USDA-ARS-ORISE program at the U. S. Vegetable Laboratory at Charleston, SC.  Her mentor is CucCAP Watermelon Team leader, Dr. Amnon Levi. The focus of her work is plant breeding, plant pathology, and genomics.
Introduce yourself—your background, where you are now, and your current research focus.
I am a postdoctoral fellow participant. I obtained my M.S. in Plant Science from Delaware State University and Ph.D. in plant breeding from the University of Florida. During my M.S. and Ph.D., I worked with phenomics, marker-assisted selection, genomic selection, crop growth model study, tissue culture, and biochemical assay for both specialty crops (strawberry, blueberry, tomato, poinsettia) and agronomic crops (alfalfa, cowpea) to improve different traits. Now as post-doctoral fellow at the USDA vegetable lab, I am working on disease resistant trait prediction using genomic selection technique. Apart from GS project, I am also working on phenomics on different horticultural traits of watermelon in the greenhouse, growth chamber, and field. In summary, I am involved in different projects associated to improved cultivar development in watermelon.
Why did you choose to work with Cucurbits, plant breeding, plant pathology, genomics, horticulture, agricultural economics or crop production?
I always wanted to pursue my career in specialty crop development. After my Ph.D., I found working with cucurbits is such a great option for me since cucurbits are demanding crops. Biotic, abiotic stresses are emerging problem in any crops, and we are facing a huge loss in each year. Likewise, we are facing the same issue with cucurbits, especially the fusarium wilt in watermelon. Thus, I choose work with cucurbits.
What do you hope to accomplish during your time working on the CucCAP grant and what do you most look forward to in this position?
I will accomplish my project, publish the research article, and attend the next CucCAP meeting for sharing research and aware of others research so that we can work together for cucurbits cultivar development based on our desired traits.
Please provide a brief description of your research.
Soilborne pathogens are becoming a severe problem for watermelon growers and significant losses are happening because of the soilborne fungal diseases. The USDA vegetable lab developed two resistant lines USVL 252 and USVL 246 and then used those resistant lines to cross with genotypes with desirable horticultural traits but susceptible to Fon Race 2. Currently I am working on a genomic selection project of Fon race 2. Fusarium wilt caused by Fon race 2 is a polygenic trait (controlled by many genes) which cannot be explained more than 20% by QTL mapping. Recently I found that GS explains the trait approximately 48% based on genomics data only. I will utilize GS technique for combining other traits to predict the GEBV for disease traits of watermelon.
What is your favorite crop, gene, trait, pathogen, or plant disease?
My favorite crop is any specialty crop, especially fruit crops. I prefer to work on stress tolerant cultivar development using cutting edge techniques.
Do you have any social media handles that you want included?
Twitter: @anju_biswas