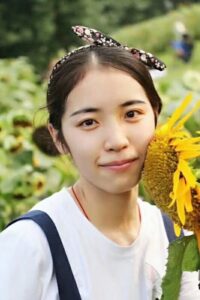 Xuebo Zhao is a postdoctoral researcher working in the lab of Dr. Zhangjun Fei at Boyce Thompson Institute. The focus of Xuebo's work is genomics. Her hometown is Beijing China.
Please provide a brief description of your research.
We are unraveling the evolution of Cucurbits using the pan-genome.
Introduce yourself—your background, where you are now, and your current research focus.
I have a background in population genetics. My graduate work at the Institute of Genetics and Developmental Biology, Chinese Academy of Sciences focused on understanding the population history of wheat, specifically how bread wheat moved, interacted, and adapted since its origin. Now, I focus on the evolution and genomics of Cucurbits in the Fei lab.
Why did you choose to work with Cucurbits, plant breeding, plant pathology, genomics, horticulture, agricultural economics or crop production?
Cucumber is an economically important crop as well as a model system for sex determination studies and plant vascular biology. Additionally, the small genome of cucumber makes it more convenient to do some methodological research.
What do you hope to accomplish during your time working on the CucCAP grant, and what do you most look forward to in this position?
Working on the CucCAP grant with a focus on unraveling the population history and adaptation especially plant diseases in cucumber using the pan-genome. I hope to make meaningful scientific contributions and look forward to collaborating with experts in the field while addressing critical agricultural challenges.
What is your favorite crop?
My favorite crop is cucumber. I want to study the evolution and function of the plant vascular system.
Do you have any social media handles that you want included?
Twitter